Saturday Activity for the Family
Bring the family to this year's Event and let them enjoy a day of shopping or at the beach. We will be offering FREE transportation from the hotels in Niceville to the locations listed below.
If you are interested in this great offer, please reserve your seat by emailing us at staff@nwflvolunteerffweekend.com the name(s) of who is going, the hotel where you are staying, and the location you would like to go to. We need at least 10 registered for this activity. Deadline to register for the Saturday Activity is Monday, September 12, 2016.
Departure Times - Meet in the Lobby Area
Quality Inn - 9 am
Comfort Suites - 9:15 am
Holiday Inn Express - 9:35 am
Hampton Inn - 9:55 pm
Return Times
The Shores at Crystal Beach - 2:30 pm
Destin Commons - 3 pm
Destin Commons
4300 Legendary Dr
Destin, FL 32541

Voted "Best Place to Shop" by multiple local and regional publications, Destin Commons sets the standard as Northwest Florida's premier open-air lifestyle center. Set on 56 acres, the center features almost 100 stores and restaurants offering the finest shopping, dining, and entertainment including Bass Pro Ships, Belk, a 49-head pop fountain, and Pirate's Cove children's soft play area.
The 49-head fountain system is built into the ground and offers kids a refreshing way to cool off during hot summer months. Also for our younger guests, a nautically themed outdoor playground features a 1,750 square foot soft play area with various creatures from the sea including a lighthouse, dolphin, sandcastle, starfish, crab, turtle and a 9 ft. long shark!
The Shores at Crystal Beach Park
2966 Scenic Highway 98
Destin, FL 32541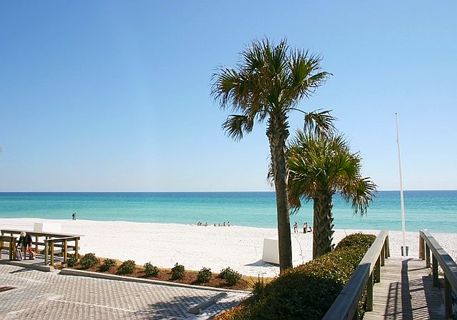 The Shores at Crystal Beach Park is located on the beautiful Gulf of Mexico. The park features a pavilion, restrooms, showers, picnic tables and limited parking. Enjoy a day in the shade of the pavilion or walk down to the sugar white sand beach and the emerald waters of the Gulf of Mexico.
Beach Safety
This system is in place for your safety. Please observe and obey the Flag System and your local Lifeguard. Absence of the flag does not constitute safe swimming conditions!
Rip currents can be unpredictable, dangerous and deadly, Please use good judgment and obey the lifeguards and flag warning system while swimming in the Gulf of Mexico.
For additional beach safety tips and information please visit www.destinbeachsafety.com .